Leo&Ella
Regular price
$69.95
Sale price
$59.95
Unit price
per
Sale
Sold out
Backorder: Expected delivery in 30 days
Why Leo&Ella is the Best Rear Facing Baby Mirror

As parents ourselves, we understand how frustrating a rear-facing car seat mirror can be. Just when you have the perfect position, a bump in the road or a kid not paying attention can easily knock it out of place. Without knowing this, you drive only to realize you cannot see your precious little baby.
Going out and buying a less jarring car isn't the right answer. Telling your other kids to be careful isn't a reality. So the best thing you can do is look for a new baby mirror. That's where Leo&Ella can help.
We make the best backseat baby mirror you can buy. No unreliable technology or unnecessary bells and whistles that break. We design our mirror using high quality materials to solve the many problems that cheap mirrors have.
We know you will fall in love and rave to others about how it's the best baby car mirror for rear facing seats.
Crash Tested Baby Car Mirror
Did you know that your Backseat Baby Mirror can be a danger to your child?
Every parent knows they need a backseat mirror, but most are unaware of the potential dangers an infant car seat mirror can have.
Not every mirror is created equal. There are thousands of auto baby mirrors to choose from, many of which can be hazardous to children.
That's because in the United States there are no federal safety standards that child safety mirrors must pass in order to be sold. This means most "safety mirrors for babies" shatter easily.
Scary, right? Thankfully, there's a solution! There are some companies out there that prioritize your baby's safety over making an extra buck.
These companies go the distance ensuring that your baby is 100% safe during daily commutes and long drives! A small parent-owned company called Leo&Ella (hey, that's us!) created the safest backseat baby mirror for your baby. In fact, we've got video to prove that it's crash tested. See for yourself!
Heat Resistant Design
A hot car and cheap plastic are a dangerous combination. A quick online search shows exactly what happens when a cheap baby rear-view mirror gets hot. We can't imagine how horrifying it would be if plastic melted and fell onto a baby's leg.
Thankfully, that's not a concern for the Leo&Ella baby car mirror. Our heat resistant design is one of the many reasons that we believe this to be the best baby car mirror out there.
Premium Materials
Brands big and small are using cheap materials and plastics to manufacture their baby mirrors. At Leo&Ella we don't believe that a company saving money should come at the cost of your babies safety.
Using cheap materials can have fatal results. As parents ourselves, we're not willing to compromise on keeping every adorable baby safe.
Here are just some issues you can experience with a baby car mirror.
Poor stitching

Weak glue

Fragile mirror

Straps that slip
The Leo&Ella baby mirror uses 100% ABS Shatterproof, acrylic glass with a thick Premium Matte Border and patent-pending single elastic band system. The extra-strong padded mount ensures the baby car mirror stays firmly fastened to the headrest, keeping your newborn girl or boy safe whilst traveling on long journeys.
Our baby rear seat mirror features an elastic band attachment system that's easy to move but only when adjusting. Otherwise, the elastic band firmly in place for the entire ride, making the best car mirror that money can buy.
Smooth Surface
Because they make baby mirrors with sharp material and hang close to a baby's face, you'd think companies would need to take better safety measures. Unfortunately, it doesn't seem common practice for baby car mirror brands to prove that their mirrors are reliable and made with high quality materials.
What Makes This Backseat Infant Mirror So Special?
When you buy a mirror for a car seat, safety isn't the only concern. You could have the safest baby car mirror in the world, but if it's a pain in the rear, then it serves no purpose. So what else do you need besides car seat mirror safety?
We're glad you asked!
Clear Acrylic Glass
Ask around and parents are sure to tell you that auto baby mirrors have smudged glass that is hard to clean and difficult to see. It's a shame because a backseat mirror for a car gives you a window into some precious moments that we don't want to miss.
Monitoring your baby is easier with the Leo and Ella backseat car mirror. The crystal clear acrylic glass gives you the joy of seeing the giggles and expressions of your little one with a quick glance in the rearview mirror.
Fully Rotational Mirror 
Finding the right position is hard enough, but is especially true when talking about a car seat mirror for a fixed headrest. You can try to tilt, twist, and bend your way to perfection, just won't get the job done. That's why we were considerate of those needing a car seat mirror for a non adjustable headrest throughout our design process.
The Leo&Ella Baby Car Mirror is the best back seat mirror for baby viewing in any car. We've gone through extensive research and determined that there was something missing with the standard mirrors to see a baby in a car seat. That's why our baby seat mirror includes an adjustable convex mirror that uses a strong rotational ball joint.
The ball mount makes it the perfect baby car mirror for a non adjustable headrest because we can rotate it 360 degrees.
We built the Leo&Ella baby car mirror for long distances. We can position this fully rotational baby travel mirror for either the driver or front passenger.
Count on Leo&Ella whether you need a baby mirror for a car with a fixed headrest or for long distance travel.
Oversized By Design
This car mirror has an extra large convex mirror, making it easy to see your little one at a glance. The premium quality matte finish trim gives it a stylish look to go with any car interior color.
​​It has an extra-large mirror for keeping an eye from head to toe. With its big size and ultra HD clarity, you can drive peacefully while monitoring your baby.
The adjustable convex mirror allows you to see your infant from head-to-toe. The lightweight, wide angle view, and extra large size of this baby car seat mirror gives parents the confidence necessary for a safe car journey.
Stays In Place
The best car seat mirror provides a firm grip and keeps in place on the bumpiest of roads. Unfortunately, most baby mirrors don't hold up to jarring rides. That's why we made the Leo and Ella baby car mirror with single elastic band and a sturdy ball socket that doesn't move once set to its position.
Easy Assembly
Who loves a frustration free setup? When you buy one of our baby mirrors, you don't have to worry about searching the internet for "how to install a baby mirror in a car." Nope, the Leo and Ella baby car mirror is fully assembled and ready-to-use right from the box.You will be ready to go in only 10 seconds.
Lifetime Warranty
Perhaps the best part of purchasing a child view mirror from Leo&Ella is our lifetime warranty. We believe strongly that this is the best car baby mirror, both in functionality and durability. If you experience any issues, our customer service team will replace it at no charge.
Leo&Ella Baby Car Mirror Product Features
Crash Tested baby backseat mirror In a renowned German safety facility (see video below)

Extra large convex mirror with a perfectly clear view from any angle.

100% ABS, shatterproof back seat baby mirror acrylic glass for car seat safety.

360* rotating swivel mounted baby safety mirror lets you decide the best angle 

Baby can see his or her reflection and the parent for comfort and soothing.

Thick, stylish matte finish borders on this luxury baby car mirror.

Install this baby view mirror in as little as 60 seconds.

No assembling required - It's delivered ready to use.

Fits most vehicle headrests, including seats with a fixed position.

One of the largest baby car seat mirrors: Size: (inches) 11.5w x 7.5h.

Hundreds of customer reviews that confirm this is the best baby mirror.
We understand you have many choices for baby car mirrors. We believe the Leo&Ella is the best mirror to see a baby in a car seat.
Look at these baby car seat mirror reviews
Share
View full details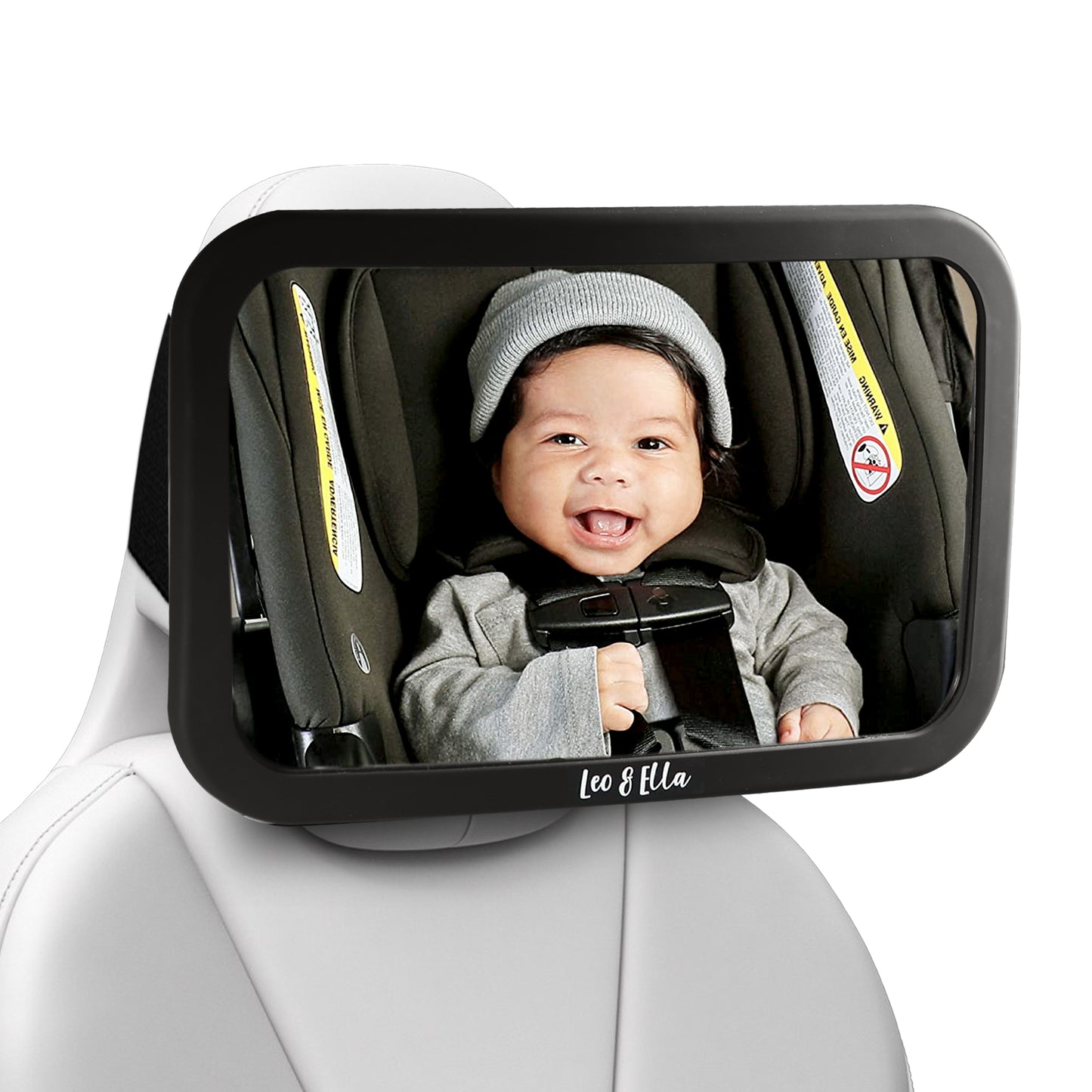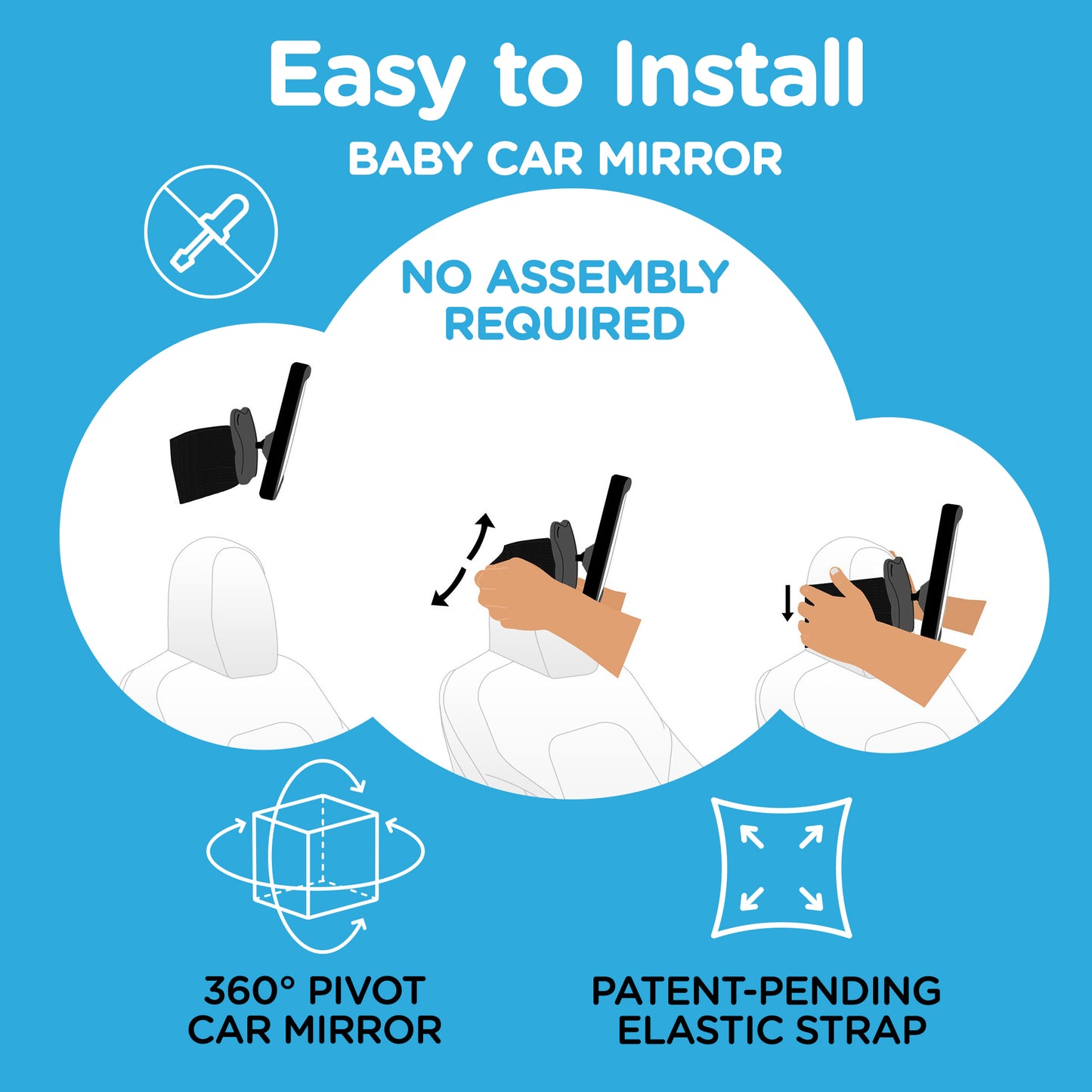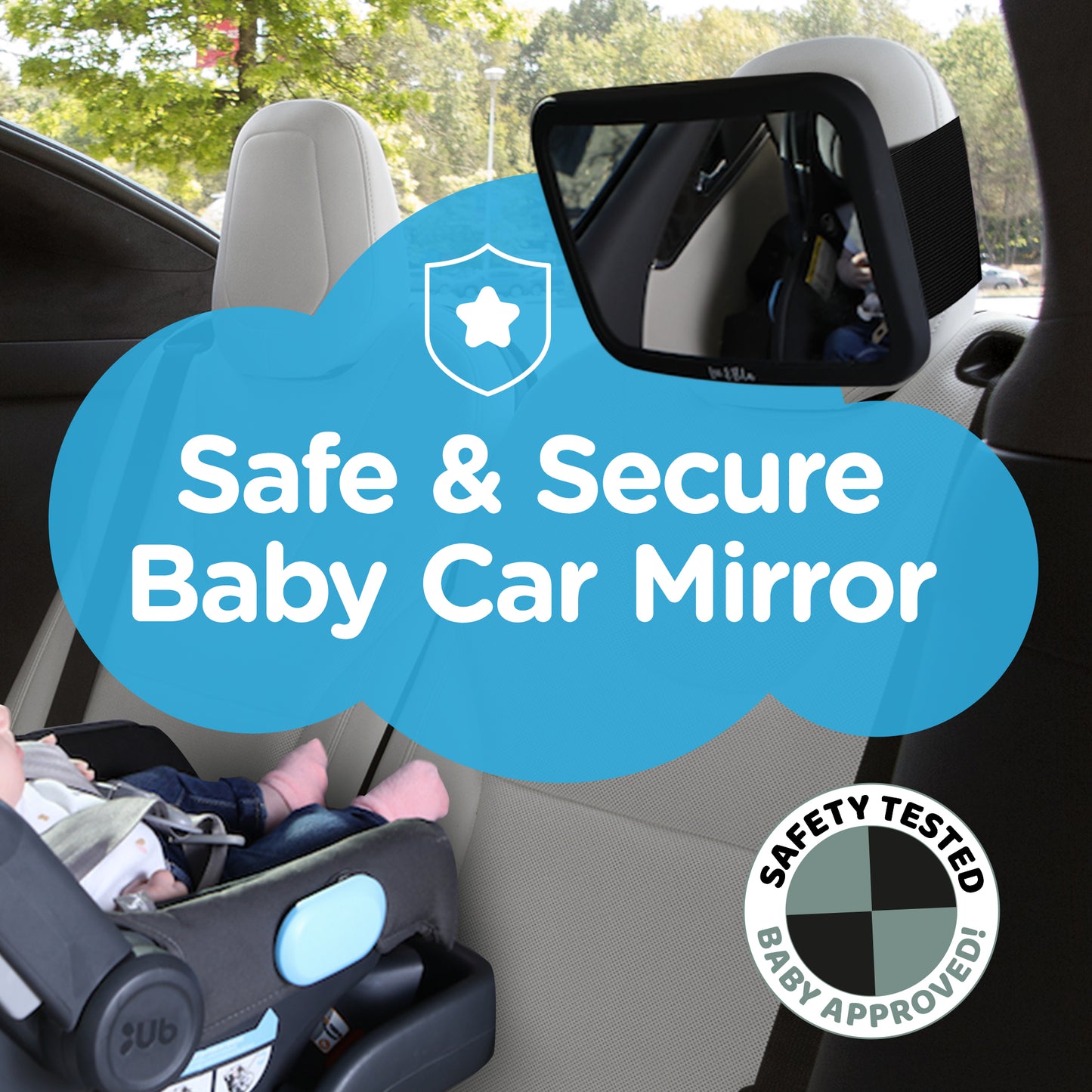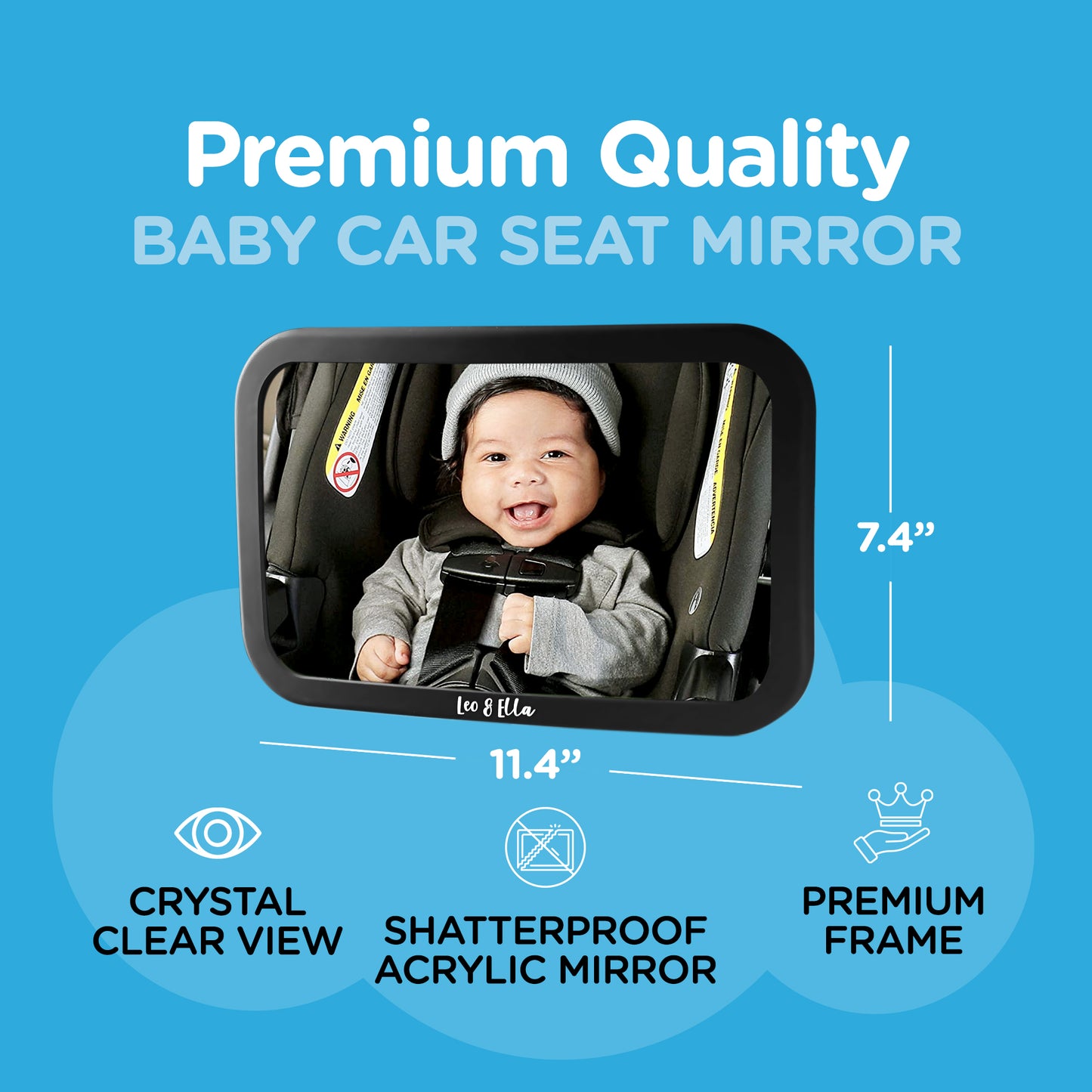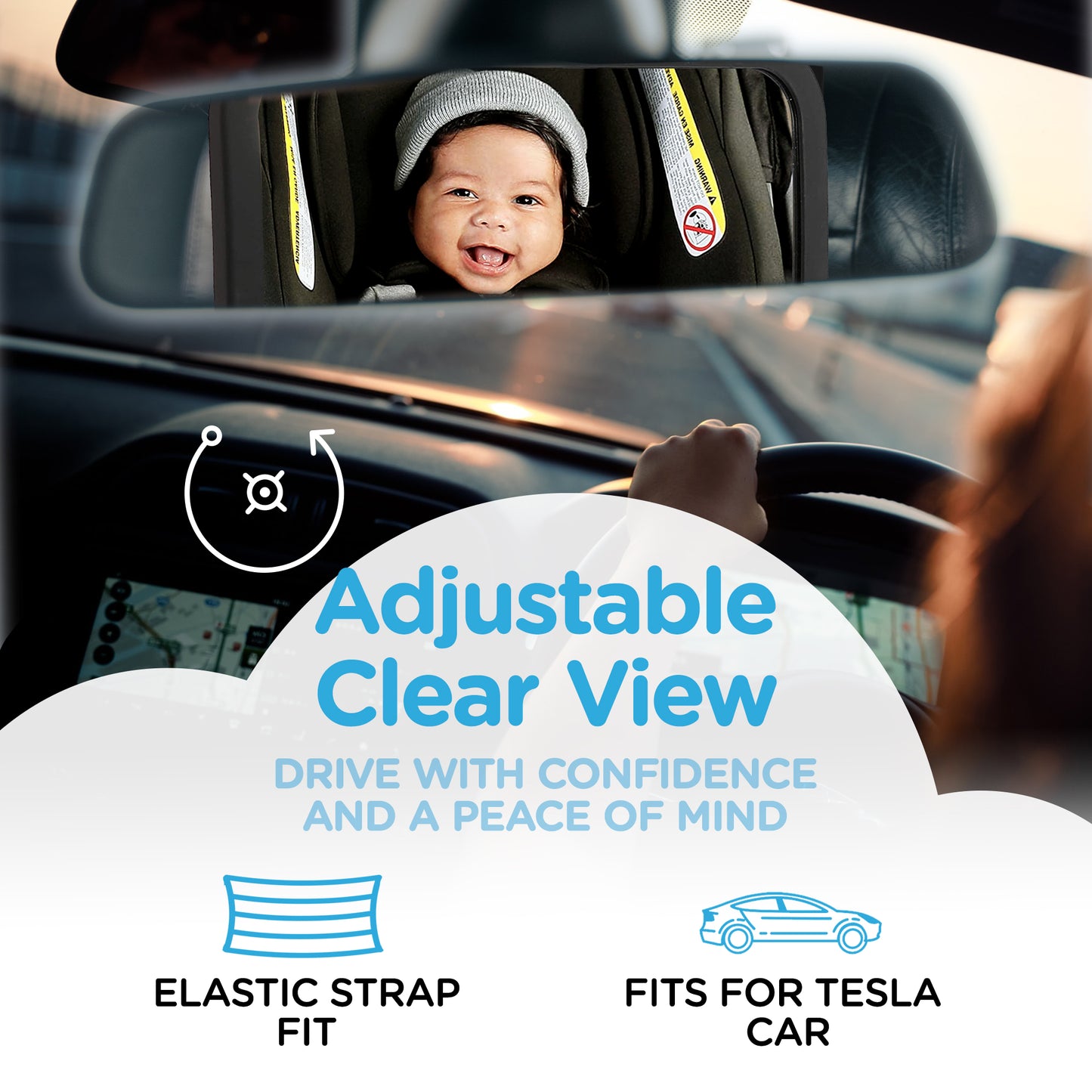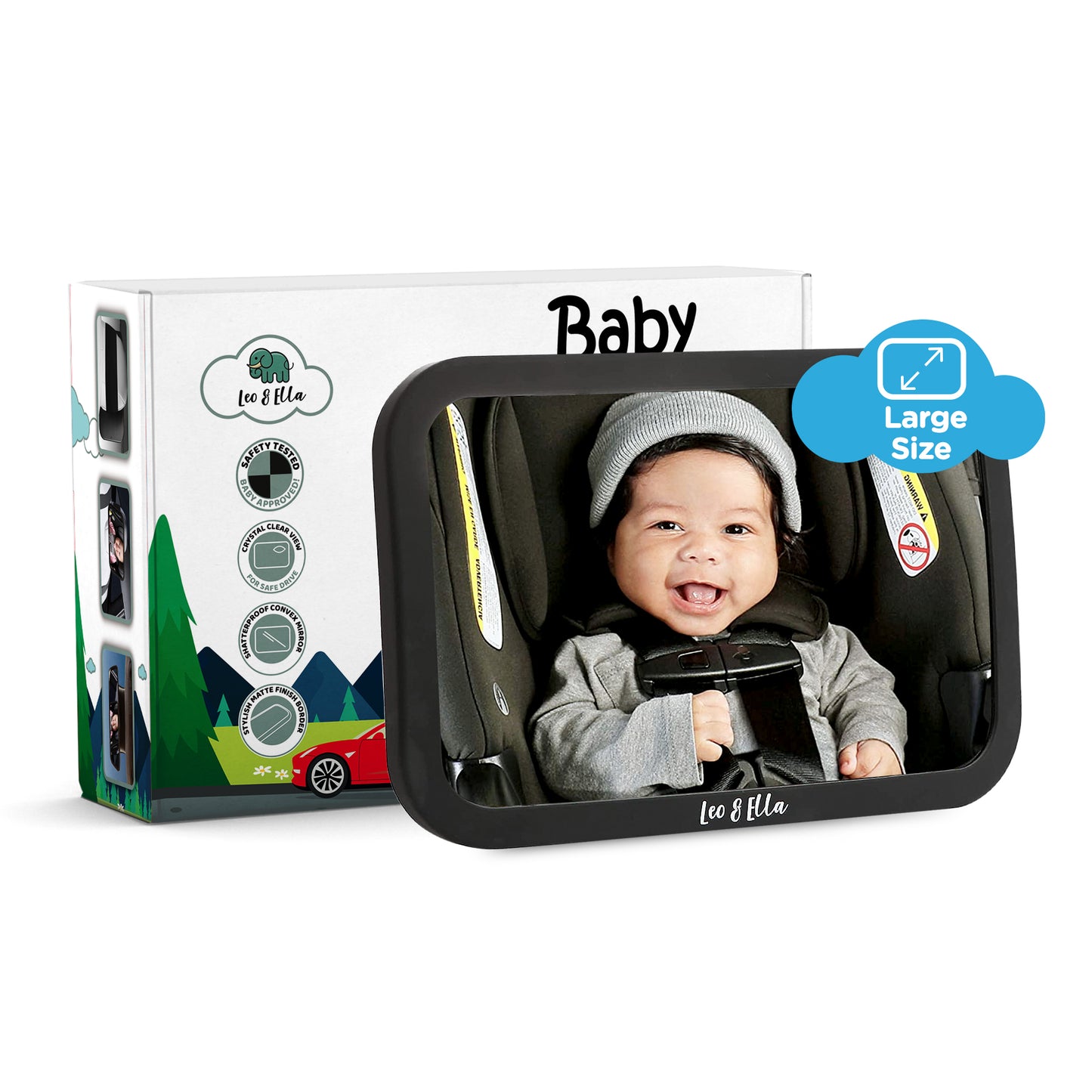 Amazing products
I cannot tell you how amazing their new design is that just stretches over the seat. Love it!
Best best best mirror ever!
This has made my life so easy and it's ten times easier to keep an eye on my baby now. It's very clear and convenient to view her while focusing on the road while driving
Buy It!!!
I love this mirror! It is so easy to install & I can see my baby perfectly in it while driving!! I 10/10 recommend! Also Customer Service is great & responds to fix whatever issues you may have fast!! I appreciate that!